Saturday, November 26, 2005
Well I finally changed the host today.
There was a downtime for a few hours while I was doing so cause I ran into quite a lot of problems, but now everything is back to normal.
Hopefully this host will function normally and the site would remain stable.
Btw, I just got ANTLR Studio listed at eclipseplugincentral.com .
Its always kinda cool to see your own plugin listed at a site you visit often.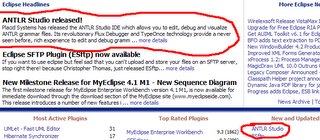 So if you like ANTLR Studio, please give it a nice rating.
You can give a rating right from the home page at antlrstudio.com.
(Look at the bottom right corner of the home page).
Though it would be really nice if you went right to eclipseplugincentral.com and left a nice comment too ;-)
Thursday, November 24, 2005
Ok, site is back up, mysteriously.

I suspect there is some problem with Hibernate.
I am converting all my code to access jdbc directly and try one more deployment.
If it causes problem this time then its another host for sure.
This is crazy!
The database has been down for over 9 hours!!

So if you try to create an account, it will throw a JDBC exception.

What the hell!! I am changing my hosts, first thing in the morning.
Tuesday, November 22, 2005
Yes, its finally DONE !!!!
I am happy as hell now :-)
Note that you need a license file to run ANTLR Studio, the downloads dont contain a license file.
To get a license file, you can either purchase ANTLR Studio or get a 15 day evaluation license.
For the latter, go to
placidsystems.com
and create an account. If you purchase a license, an account is automatically created for you.
To install the license file, place it in the plugins/AntlrStudio_1.0.0 directory.
Once the purchase is made, an email is immediately sent to you with the license file attached, and an account is created for you based on the email address provided, that is if the account doesnt already exist.
Please note that the name/company on the license will be that which you provide during the time of purchase.
The final site, placidsystems.com is not fully ready yet, but it is functional. So i thought instead of wasting more time, I would release right away and keep updating the site gradually.
There still seems to be some problems with my hosting provider, sometimes the database goes down for a few minutes and you will find that you cannot log in, or sometimes the mail doesnt go. I have no idea why this stuff is happening, but I will be changing hosts soon, so all these problems should vanish. As for now, if you run into any of these just try again after some time.
Oh and by the way, I am using swreg.com to process my payments. They have this 'verification' process whereby they verify each new vendor to their system by making sure the first few orders were delivered properly, by calling up the customers. So dont be surprised if you get a call from them (Hopefully you wont say anything bad about me) :-)
I have set up a new
forum
to deal exclusively with ANTLR Studio issues (hopefully you wont run into any) so that we dont crowd the antlr mailing list.
In case of any problems feel free to contact me at pdeva at placidsystems.com .
Ok then, I am now off to answer those zillions of 'Inform me' emails :)
Saturday, November 19, 2005
I woke up today morning, expecting to release AS... finally! It was a nice feeling after doing all that hard work and I expected a nice day ahead of me.
But I was in for a hell of a surprise!


I recently purchased a hosting account from indiatimes.com.
It seemed pretty cheap for the price they were selling it.
But at that time I didnt know what I was in for.
Firstly after purchasing I found out that my account wont be activated for 3 days!
Well, so is waited for 3 days and nothing happened. So I called up customer care, which is not a toll free no, mind you and it was STD calling rates for me as I am situated in a different state.
I had to make 7 calls of 10 minutes each and shout at the top of my voice till my account was finally activated!


But then I came across this another issue!
Everytime I need to deploy my .war file, I need to first upload it and then send them a 'support ticket', followed by a phone call to customer care and then they will deploy in 24 hours!!!
So well I create the placidsystems website and upload it today hoping to release ANTLR Studio. The first deployment is done pretty fast, and things are looking hopeful, until….
well firstly I get this 404 error when trying to access my page. So I give another call to customer care. The guy who picked up looks totally foxed and tells me there must be a problem with my code! I then tell him that the page is not even getting accessed so my code is not even getting executed! The guy finally transfers it to some technical guy, who tell me I need to use an arcane url like - placidsystems.com:8080/name_of_war_file/page.jsp
I mumble something and keep the phone down.


The site seems to be running now, but as soon as I try to create an account I get a JDBC exception.
Now there is some problem with the jdbc connection url.
I send another support ticket and 3 phone calls to find out the jdbc connection url.
The guy tells me now that my query will be answered in 24 HOURS!!!
And guess what tomorrow is Sunday, so now I cant release AS atleast until Monday now!!!!
And on top of that I need to 'undeploy' the existing war file and 'redploy' the new war file with the updated jdbc url. I don't know how much time will this take!
At this point I feel like banging the cutomer care guy's head on the wall and stomp him with my feet!!! Where is that flamethrower…..