Saturday, November 26, 2005
Well I finally changed the host today.
There was a downtime for a few hours while I was doing so cause I ran into quite a lot of problems, but now everything is back to normal.
Hopefully this host will function normally and the site would remain stable.
Btw, I just got ANTLR Studio listed at eclipseplugincentral.com .
Its always kinda cool to see your own plugin listed at a site you visit often.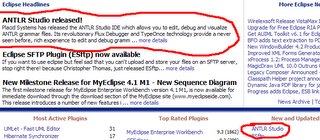 So if you like ANTLR Studio, please give it a nice rating.
You can give a rating right from the home page at antlrstudio.com.
(Look at the bottom right corner of the home page).
Though it would be really nice if you went right to eclipseplugincentral.com and left a nice comment too ;-)
0 Comments: